Accounting Today has described August Aquila as one of the accounting profession's key strategic thinkers. The American Institute of Certified Public Accountants has written, "August J. Aquila is one of the country's leading consultants and authorities in the areas of profit improvement, new business development, strategic marketing planning, and management issues for CPA firms."

With more than 20 years of management and consulting experience in the accounting profession, he has consistently held cutting-edge positions. He was the first Director of New Business Development recruited by Coopers & Lybrand (Chicago) and became the first Group Director of Marketing, responsible for 9 offices in the Mid West. He also holds the distinction of being the first non-CPA marketing director in the United States to achieve an equity position in a top 50 CPA firm (Friedman, Eisenstein, Raemer & Schwartz - FERS).

He jointly led the turn-around of the Practice Development Institute (PDI) into a profitable operation and was instrumental in making PDI the premier marketing, publishing and consulting firm to accounting firms.

August has been a leading force in the industry's consolidation movement and has held the positions of Vice President-Field Management Eastern Region (Regional Chief Operating Officer) and Vice President-Mergers & Acquisitions for one of the major consolidators.

He has consulted with financial services firms of all sizes in the United States, Canada and the United Kingdom and has been a frequent speaker at national and international conferences and partner retreats. He has written numerous articles. In 1992, his article entitled "How To Lose Clients Without Really Trying," received the Journal of Accountancy's Annual Literary Award as the best article of the year. His articles have also appeared in The Practicing CPA, Accounting Today, Partner-to-Partner Advisory, CPA Software News, Professional Marketing (UK), Certified General Accountants Magazine (Canada), and on various accounting WEB portals.

He has authored three books: CPA Firm Mergers That Work, CPAs That Sell: A Complete Guide to Promoting Your Services and Breaking the Paradigm: Alternative Strategies to Pricing Accounting Services as well as working with Andy Dzurinko on The Power of Optimism: Insights to Personal & Professional Growth.

August currently lives in Minnetonka, MN with his wife Emily and their poodle Skyler.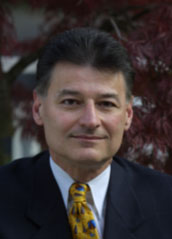 August J. Aquila Ph.D
4732 Chantrey Place
Minnetonka, MN 55345
952-930-1295 (h)
612-671-1549 (o)
aaquila@worldnet.att.net